Last month, OSN's new CEO Martin Stewart stepped into the limelight with the announcement that the pay TV network is moving in a new direction, with a brand-new pricing structure to bring more price-conscious subscribers into its fold.
Last month, OSN's new CEO Martin Stewart stepped into the limelight with the announcement that the pay TV network is moving in a new direction, with a brand-new pricing structure to bring more price-conscious subscribers into its fold. In an exclusive interview with Vijaya Cherian, Stewart unveils the company's new strategy and how it intends to woo more subscribers in the future
Martin Stewart has not had an easy ride since he assumed office as CEO of OSN on August 1, 2016. But the changes he has wrought indicate he's willing to adapt to market conditions and steer the company through tricky waters.
Stewart entered the market at a time when OSN's boat had been rocked significantly. After enjoying monopoly status as the region's only premium pay TV service for several years, the entry of beIN with a much cheaper entertainment package last November, and the arrival of a number of OTT players, created enough of a stir in the market for the pay TV provider to recognise that it needed to change its game.
Stewart is no newcomer to the media business. He has many feathers in his cap, but the one that stands out is his role from 1996-2005, when he served as CFO of Sky UK. He is reported to have been instrumental not just in launching Sky's digital platform but also in helping to double its subscriber numbers to seven million before eventually moving to EMI, the music company. Stewart has also served as Director General of ONO, the Spanish broadband communication and entertainment company, delivering integrated telephone, television and Internet services. Besides number crunching being his forte, he has served on the boards of several companies including OSN and is no stranger to how the commercial aspect of the business works. So when the role of CEO at OSN became vacant, Stewart seemed the perfect fit for the role.
How has the ride been so far?
It's been an amazing six months. It started in a whirlwind because every single day in August and September, I sat in the boardroom with teams coming in and making presentations and asking the same three questions – Tell me what you do? Tell me how you can do it better, and why you haven't done it so far? And tell me what I need to do to help?
By the end of those presentations with every team, we had a strategy, got the sign-off for it, and then came the difficult part, which was the implementation. The first part of that strategy has been the launch of the new OSN with its new pricing and packaging structure.
It became very evident that to take us from where we are and be more successful in the future, we needed to listen to our customers. Customers were asking for more flexible pricing and more choice. We needed to recognise that everybody loves entertainment, but everyone wants it at a price point that they can afford or are willing to set aside for this purpose. We recognised that we needed to provide more flexible and affordable pricing if we were to attract a new set of subscribers.
How have you structured the pricing now?
The pricing is very simple. We have simplified everything into five basic building blocks, sort of like playing with Lego. You start with the foundation, which is the Get-Started pack at just $20. It has 32 general entertainment channels in both English and Arabic and includes Disney, Nickelodeon, a number of premium factual channels and more.
Once you have the Get-Started pack, you can add the rest of the blocks that you want. Some may want to subscribe to more movies, sports, Alfa, Pehla, Pinoy and so on. Our top proposition will be titled Get it All. The price range is between $20-89. We will be adding multi-room on top in early March.
Right from the basic package, our subscribers will be receiving premium content. This price point gives us the opportunity to have a conversation with the customer about what they want, what their families like, and then we can help build an entertainment package that suits their requirements. We allow them to make the choice.
That's the key difference between how we were before and how we will be in the future. We will listen, we will advise, and I'm certain customers will see greater value in what they are buying.
You mentioned four principles that you had adopted for the business.
Yes, there are four overriding principles that we have adopted for our business for how we will build OSN and how we will build on top of it. Those four principles are digitisation, partnerships, people and communications.
We see the need to be digital in everything we do, whether it is communicating internally with our customers or how they can interact with us and have service options.
From a partnership point of view, we are working more closely with other major entertainment organisations and service providers in the region to make sure we can service our customers on any platform that they want to be serviced on. Entertainment everywhere at a price for everyone is essentially what OSN is now looking to offer.
Regarding the third element, we have two thousand people working in this organisation and it's important that everyone is moving in the same direction. We have spent a lot of time taking the two thousand people with us and making sure that everyone is involved in this journey with us.
The last is communication both with ourselves and with everyone. We are on a new journey. We have started with the new OSN packages and pricing. This will evolve further as we deal with partners and create more products for our customers and service them better. You will see a very different marketing approach and a new service approach as part of our pricing package, and in due course, you will also witness a different sales approach.
Do you plan to roll out more elements as part of your business strategy?
Yes. In early March, you will see the first step in the evolution of our other products. Our OSN Play live streaming channels will increase in size from 20 linear channels to 30.
In summer, our OTT services will be revamped and enhanced. We will have bundles focused on sports, movies, entertainment and so on, with different pricing options. We will relaunch in the summer and those pricing options will be much more flexible, down to the part payment options. That's the next logical step, which is looking at what sort of products we want to put in front of our customers.
Additionally, the content we can offer to our customers in the OTT space is premium content. It will provide a strong package for customers and I understand that people are buying different rights all the time. We are very comfortable with our position and we are sure that we will compete very strongly with what is out there.
Do you not run the risk of some existing customers downgrading their packages?
They have the freedom to do that, but just as we have great staff who have been with us for many years, we have a lot of customers who have been with us a very long time and will continue to be with us. Those people are very happy with the existing packages they have and have been receiving the best service we can offer.
Our new packages are aimed at attracting new customers. We want to be able to get them in at a price point that is affordable to them and allows us to engage in a conversation with them. We want to use the $20 package as a starting point. It is the start of a conversation. Based on research, we know that most people start with a basic package and then tend to see value in adding bundles.
Your USP has always been first-run programming. If you lower your prices, can you afford to invest in premium entertainment?
We have announced that most of our contracts have been renewed on a long-term basis with most of the Hollywood studios, so that's proof of our commitment to always securing the best content. We also announced the Disney deal and the UFC last month. The Disney deal is a terrific addition, and it gives us tremendous rights.
We are also launching a number of Nickelodeon channels and a sports channel called Ginx Esports TV that is aimed at the younger demographic. Particularly in sports and general entertainment and movies, we are trying to make sure we appeal to the younger audience in this region, where the population under 30 is significant. It is important for us to be able to appeal to the younger people, as they are the customers of tomorrow.
Their method of accessing content has changed, and those two things are the decisions behind the types of content we offer and how we present it. It's hugely important for us that we are on any screen and on any device. That's got to be our longer-term aim.
You don't have all your linear content on your OSN Play platform now. What's the challenge to making that possible?
It's purely a technical challenge because of low bandwidth availability. In the long run, I would like to see a complete duplication of the content between platforms, so if you buy your main subscription for the home, you should be able to take that and have it on any other screen.
Would you say you are now positioned to compete with beIN in terms of pricing?
I think we have gone one step further because we have better content in the entertainment space. First-run content starts in the very basic package. Now we are marrying our great content advantage with a great pricing advantage.
What's your opinion of the MENA pay TV space?
The overall market for pay service in the MENA region is under-penetrated. There is huge opportunity for growth here; it's about making sure that you can provide entertainment packages at prices that people can afford and in ways in which they can watch it. If you make it affordable, we will be able to penetrate the market further, and our overriding aim is to see massive net growth in our business. We have had a great start, but we now need to build on that and take our ambition to the next level.
With your strong financial background, it is rumoured that you are prepping OSN for a sale.
That's not true. I was brought in to take the business to the next level; it has the strong support of the shareholders, who have been in the business for more than 20 years. They see a huge upside in the market; it's under-penetrated in terms of overall consumption.
Our objective is to grow right across the board. We didn't have enough flexibility before. We have addressed that on the pricing front. There will be even more flexibility once we have our OTT services in summer.
Secondly, there are countries where we really haven't started selling, especially North Africa, and we need to start taking advantage of the rights we have for those areas and start selling there.
Thirdly, we have not even fully exploited the range of rights that we have, especially the new rights that we have. We now have more rights to be able to create different sorts of offerings for customers than ever before. We can now sell more products to more people in more countries, and I think that combination will give a big boost to our future profitability.
You have not exploited your rights in some countries? Could you elaborate?
We are simply not operating in some countries for which we do have the rights. Our aim is to develop new offerings that customers can enjoy and bring new offerings to those markets. It also means we can take advantage of new technical developments in the 4K boxes, the UHD boxes, and so on.
What kind of rights do you have now? Just linear, or the whole shebang?
When we sign contracts now, we ask for everything most of the time.
What new technical initiatives are on OSN's agenda for this year?
We are developing a 4K box, but that is scheduled for later this year. At the moment, though, we feel that the existing technology in our boxes is under-utilised. Our users are not maximising the potential of the boxes they have. We need to first explain what services our boxes have, like the PVR functionality or the ability to connect the box to the internet and watch from a huge library of premium on-demand content. They will enjoy our services more only if they will use what is already in their hands today.
We are adding new shows as part of our local productions. While we will showcase more news about OSN, upcoming movies, features, red carpet interviews, sports shows and so on in this channel, we also intend to show how to use our boxes effectively.
What new programmes are you producing locally as part of your sports package?
We are now the home of WWE and UFC, and those two properties are incredibly popular in this region. Outside of the US, this region has the biggest fan base for both those sports. We are going to enhance people's enjoyment of those sports by bringing weekly shows in Arabic to better connect fans with their heroes. We will also have shows like Ultimate Fighter, and if we can help find the next star to fight in the UFC or WWE, that will be quite interesting.
Does OSN have the financial resources to go head to head with beIN for deals coming up for renewal?
In the last few months, we have renewed almost all of our contracts, and I believe that demonstrates our resolve to continue as the home of all premium entertainment in this region. These deals have helped future proof our business, because the rights we have obtained are all long-term deals.
The utility we have obtained in terms of VOD, localised production, 4K and so much more means we have an incredible amount of rights that will take us forward for the next five years. These are not just linear licensing agreements – we have bespoke feeds, OTT solutions and so much more to offer.
What is your plan for your Arabic productions?
We have been making a lot of noise about some of our Arabic productions, and we are pleased to see a comeback with some of our returning series. Creating Arabic content is a big part of our commitment to this region. In the last 24 months, SNL BilArabi has done extremely well and the new season kicked off on February 18. It has been successful in multiple markets like KSA, Egypt and the UAE. We are also working with Viacom on producing local programmes.
On the other hand, we are also going in a different direction with our Arabic content. It needs to be much more focused on pay TV than general entertainment content, as we are not competing in the FTA space.
To clarify, one of the first rules of pay TV, for instance in the UK, is that you don't do what the BBC does, which is big costume dramas and so on. As a pay TV platform, you want to offer something that is different and distinct for pay TV. We are commissioning different types of content. We are looking at ways to evolve, and we are looking at ways of anticipating and developing new series for television.
Where do you see yourself in five years?
In terms of our ambition and where we are going, and the scale of what we are doing, we aim to triple our business. That's our five-year ambition. So there's never been a better time to be an OSN subscriber than now.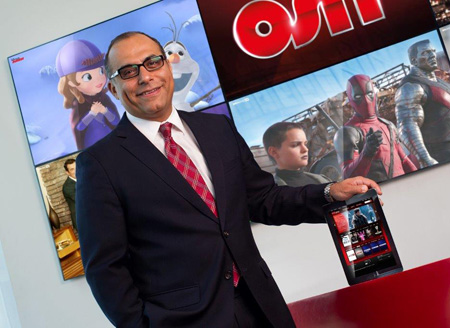 Taking Arabic content to a new level
Emad Morcos, Chief Content Officer at OSN, is responsible for negotiating the content deals at OSN. He elaborates on the new direction OSN is taking in terms of Arabic content.
"I don't want to do game shows and talent shows, because FTA does an exceptional job in that area. I don't see why I should go down the same path and create content that is already incredibly well produced. We are looking at a series or a show that has a host in it and interviews celebrities. Take The Oprah Winfrey Show, for instance. She is more cable TV US, and not FTA. Essentially, we are looking at outlets that cater to pay TV audiences.
"We continue to increase our investments in Arabic. We are in a market that speaks Arabic, so we want a sustainable five-year direction for the content. This is not an ad-hoc approach to Arabic. With Disney, we now have an app that is in Arabic and teaches English. We also have Disney Hindi for OTT, and there are a lot more investments going and deals across the board and the different demographics that we serve. We have so much to tell our existing customers about so many new services on so many new deals."