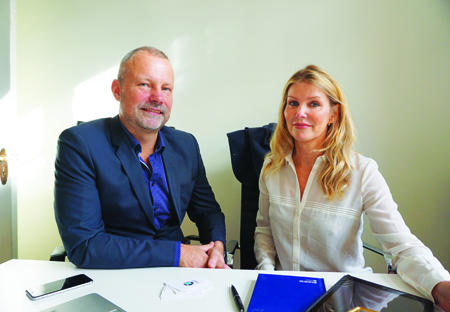 Stockholm media technology company Newstag has announced plans to launch a new experience specially designed for the MENA region later this year. Co-founders Camilla Dahlin-Andersson and Henrik Eklund talk exclusively to BroadcastPro ME about the service and their plans for the region
What is the idea behind Newstag?
Camilla Dahlin-Andersson, co-founder and Chairperson: The vision of Newstag from the start was to create a sustainable and relevant news source. After analysing the global digital media market, we came to the conclusion that what was needed was a completely new approach. Traditional media models are based on scarcity, but today we are living in informational abundance thanks to the internet and mobile phones. To meet this challenge, we realised we had to reinvent the business model. We focused on video news, as we see this as the most shared and engaging content with the most potential for independent financing.
Henrik Eklund, co-founder and CEO: Through my work at the Associated Press, I saw first-hand how media companies around the world were fighting for their survival. We also recognised that audiences were spending a large amount of time on video online and mobile usage. A migration of advertising dollars to digital environments was going through the roof. We both saw this as an enormous opportunity. We launched the beta version of Newstag.com roughly 18 months ago and were pleasantly surprised at the rapid global pick-up. After only two weeks, we had users in more than 200 countries, and the fact that they were all young – largely under 34 years – confirmed our belief that young people do care about news; you just need to provide a relevant experience.
Where do you intend to locate your MENA office?
It is not decided yet, but we will most likely be based in Cairo, Egypt. It's a phenomenal country, and the city itself is home to a lot of talent and the Arabic spoken there is well understood across the region.
Will you be working with partners in the MENA region?
We have an extensive network of partners in place. There is always room for more content partnering and we also plan to team up with ad-sales teams across various markets. Local and regional networks are key, so either way we need to recruit team members in the region.
How does Newstag work? How is news curated on the platform?
Eklund: We handle more than 50,000 news stories each month and our users can create their own TV channels – we call them tagstreams – based on subject tags they find relevant. You can create your own hyper-personalised news channel in seconds and it will contain the latest news about the topics you care about. We are currently home to about 200,000 individualised TV channels/tagstreams in more than 200 countries. Newstag's technology platform processes all data and settings, and based on these findings, we can create various models. We don't track individual behaviour, but the data on an aggregated level is interesting, as collectively we 'crowd curate' when using the service.
We are currently running a test on www.newstag.com called 'watched right now', based on world viewing trends. At the moment, we just use a simple data signal, but when we package it with other qualitative and quantitative data we can create fascinating products.
Dahlin-Andersson: Crowd curation is at the core of our business model. We do not add any editorial input, as that is done by our media content partners, but we have the largest newsroom in the world. And the service is also future-proof, as it is a mobile first web application. The world's breaking news is there, in the palm of your hand.
Who are your global partners?
We have the largest portfolio of professional video news-only content in the world and work with top international news providers, including Associated Press, CNN, CCTV and AFP, to name but a few.
How do your partners supply news stories to the platform?
We have as many solutions as we have partners. Thanks to our flexible technology, we can adapt to anyone or in any way – we build automated solutions as far as it is possible. It's not really an issue, even though it sometimes takes some time to set up. On occasion, it has also led to us helping our partners to improve their platforms.
How do you work with Facebook?
Facebook is a communication window for us, helping us to create awareness and serving our users with crowd-curated news. This may evolve over time as social networks become even more of an integral part of people's media behaviour.
Do you also carry user-generated content? How is that integrated with agency news?
Dahlin-Andersson: At the moment, we don't, but it is definitely on the horizon. As you know, this type of content needs dedicated editorial resources ensuring relevance and authenticity. This process could be carried out internally or together with partners. From a technology perspective, everything is in place, but we have not decided in detail how to proceed at this stage.
What kind of investment has gone into developing the platform from a technology point of view?
Eklund: We have invested millions of dollars and years into the platform and it is all proprietary systems – of course, built on various frameworks such as Java, JavaScript, FFmpeg and so on. The system is optimised for a new world with scalable distribution solutions and multi-channel consumption.
Our technology platform has been built in-house. For the front end and some of the app development, we have used a Stockholm-based firm, 24HR. All functionality around file transfer, data, and content management and storage is done through our proprietary technology (obviously using frameworks and standard components when available). For cloud services as well as for content distribution (CDN), we use Amazon Web Services.
Our system has three distinct features: ingest, handling and output. In addition, there is an integrated data management layer. We have, and can add, automatisation and machine learning, where relevant.
Do you use any cloud service at present for content?
Eklund: Yes, we do. Our model and offering would not have been possible without the economies of the cloud. The business model would not have worked if we had needed to handle the server farms ourselves.
How is content storage and archiving handled?
Eklund: It is all done through our proprietary content management system. All agreements with our content partners have variations, so each piece of content is handled uniquely.
Do you also edit the news before it is published on the platform? How is that done? How big is your editorial team?
Dahlin-Andersson: We do not add or change anything to the content. That is done by 20,000-plus professional journalists who work for our partners. The only thing we do is translate the metadata into tags and add tags for the UN's 17 Sustainable Development Goals.
How is the service monetised? What business model do you use for Newstag?
Eklund: There are a number of business models we can create based on our solution. We do not believe programme-based buying and selling of ad inventory is a long-term solution, and we are continuously exploring new models. One that has been successful and is very promising for the MENA region is the 'newsroom-as a-service' offering, where corporations can create their own news shows based on professional news. For example, a bank that wants to attract entrepreneurs may start a weekly or daily 'news show' based on tags such as 'start-ups', 'entrepreneur', 'new economy', etc. and then make it available for customers and other stakeholders. As the content will be anchored in professional, independent journalism which is not directly financed by the brand, the content is more credible and relevant.
How will you tailor the business model to the MENA region?
Dahlin-Andersson: We think that the region will evolve. What we both have observed in the past is that markets that are late to start their evolution eventually have a more rapid progression curve. We believe that the digital media industry in MENA will go through the normal developmental stages, bypassing the legacy problems that many companies in Europe are struggling with.
Eklund: The fact that 6% of the Earth's population lives in the region, but only 0.6% of the media budgets are spent here, means there is room for growth in the short term as well.
Any challenges in running a service such as Newstag?
Dahlin-Andersson: When challenging existing practice, as is the case when we trust the audience to curate the news agenda, there is always friction. Disturbing the balance and doing things in new ways can create some turbulence and obstacles, but as we are trying to balance the needs of all stakeholders, we have been able to overcome the ones we have met so far.
Eklund: We can sometimes be seen as challenging the traditional industry and it can take time to get everyone on board. The fact is that traditional broadcasters and media companies need to adapt their offering, especially when it comes to the news, and Newstag is a component in that solution.
What can we expect from your MENA launch?
Dahlin-Andersson: We aspire to be a trusted source and partner that creates value for all stakeholders. Our aim is to provide a contemporary experience for our users in the region, not the least in adapting to a new interface. We will also launch a lighter native application alongside the web-application because the bandwidth is not yet as stable in parts of the region, compared to other markets.
Which MENA territories will be your key focus areas, and why?
Eklund: Newstag has carried out extensive testing during the last six months, and to date, the most promising markets, based on our early findings, can be found in the Gulf and North Africa. But it goes without saying that MENA is not a homogenous market; each country is individual and has its own set of challenges and opportunities, just as in Europe, but in MENA, the language unifies the region.