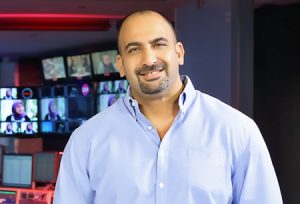 Dubai-based private broadcaster, Al Aan TV has revamped its news production environment with Avid tools and workflow solutions. The new workflow promises greater efficiency, reduces costs, speeds time to air and will boost the network's social media presence.
After ten years of being on air, the growing channel's hardware infrastructure was limiting further growth. Escalating costs, inefficient operations and time-consuming manual tasks were taking away from creative time and straining resources. Al Aan TV turned to integrated Avid tools for a fast-turnaround infrastructure, powered by Avid's MediaCentral Platform.
"As a longtime Avid customer, we knew that Avid could provide the right solutions to help us meet the fast-paced, changing nature of news production today," said Raad Haddadin, Head of Engineering & Support at Al Aan TV.
"Our latest investment in Avid tools and solutions enable us to work faster and more economically while increasing our social media coverage and visibility, which is critical to our growth."
Al Aan TV's new workflow includes Avid NEXIS, a software-defined storage platform and MediaCentral | UX, a cloud-based, web front end for the MediaCentral Platform. These work together to provide a unified experience for fast, collaborative media production. Media | Distribute strengthens Al Aan TV's digital presence with fast content delivery to its social media channels.
Avid Interplay | Production has been deployed for Al Aan TV's complex asset management, while Interplay | Capture maximises the broadcaster's Interplay investment with advanced automated feed scheduling and control. The solution also comprises Media Composer | NewsCutter for nonlinear editing and Avid iNEWS for efficient newsroom management. Al Aan TV will also benefit from three years of support, to ensure its team derive the greatest value from their Avid investment.
"Al Aan TV is the latest member of Avid's preeminent client community to transform from a hardware infrastructure to a virtualised environment," Tom Cordiner, senior vice president of Global Sales, Avid said.
"The broadcaster's new workflows will provide efficiency and streamlined servicing, and also offer the potential of cloud deployment in the future."