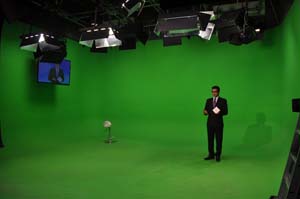 Iraqi broadcaster Al Sumaria TV recently deployed two TriCaster 8000 virtual sets from NewTek at its Beirut and Baghdad facilities to ensure that it could quickly provide a fresh look and feel to its channels on time and within budget. The sets were provided by UAE-based NewTek distributor MediaCast.
 Edmond Mouawad, Broadcast and Media Team Leader at Al Sumaria TV stated that the virtual set was chosen because of tight deadlines. "We did not have time to construct a studio in time to go on air from Beirut and later, from Baghdad. The virtual set came in handy for this. This is our first virtual set installation. We haven't had one before this."
The TriCaster 8000 comes with the updated Virtualset Editor 2 allowing zoom, rotate and pan features, giving the end user a complete 3D environment within the virtual set, according to Peyman Dadpanah, Business Director of MediaCast.
"The advantage of a virtual studio is that it doesn't require a lot of space. Therefore, companies can cut down on the costs of infrastructure and equipment. To give an example, a one-time investment for a virtual studio setup such as the NewTek TriCaster 8000 with additional elements costs less than USD 50,000. This gives the user a huge advantage because it gives them the option to add unlimited number of virtual studios. It would take that much to create just one studio with all of the interiors. The value that a virtual set brings, therefore, in terms of costs cannot be quantified," he explains.
The distributor adds that this sale also reflects the increasing demand for broadcast systems from Iraq.