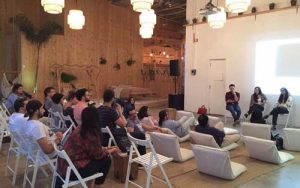 A well-known UAE-based group with investments in a number of different verticals across the MENA region, has reached out to the Dubai-based crowdsourcing community, Human-Film, to produce a 90-second corporate video on the group's brand and its values. Al Tayer Group is offering a prize money of approximately  $8000 to the winning filmmaker.
With a reported global community of more than 700 filmmakers, and offices in Singapore and Dubai, Human-Film was established to connect brands with filmmakers, towards creating digital video content.
"This is an amazing first-of-its kind opportunity to showcase regional creative talent directly to one of the biggest brands in the MENA region, and shows the power of our crowdsourcing filmmaking model, " stated Gauri Malhotra, Business Director at Human-Film.
The competition is a two-stage process. In the first stage, participants will submit a detailed idea with script, storyboard and visuals. In the second stage, finalists will be chosen to produce videos with the support of Human-Film and Al Tayer Group. The winning video will be decided by Al Tayer Group.
The deadline for the first stage is September 19, 2017 20:00 GST and those interested are invited to register online with Human-Film.