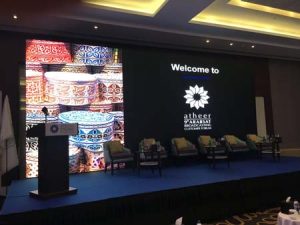 Arabsat's customer forum, now in its ninth edition is underway at the Salalah Rotana Resort in Oman with delegates registering from the broadcast and satellite sectors across the MENA. The two-day event, on October 3-4, 2017, will host topical presentations and panel discussions on shared customer experiences in the MENA broadcast industry and the future of satellite broadcasting in the region.
A welcome note from Khalid Balkheyour, President and CEO of Arabsat in the presence of distinguished ministers and other delegates, will set proceedings at Atheer in motion.
Wael Al Buti, Vice President and CCO, Arabsat, will make a presentation on new possibilities around the Badr constellation of  satellites at 26 deg East. This will be followed by a research driven presentation from Frost & Sullivan.
Panel discussions will follow on the broadcasting outlook in the MENA with participation from Globecast and Neilsen, among others.
Follow our tweets @broadcastprome throughout day one.