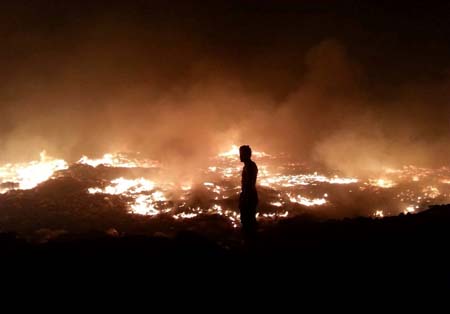 A special showcase of Arab cinema will screen at the Cannes Film Festival's 70th edition as part of the returning Dubai Film Market (DFM) Goes to Cannes programme. A line-up of five works-in-progress titles from the region, will give a first-look screening to distributors, festival programmers and sales agents during the Cannes film festival held from 17 to 28 May 2017.
Now in its third year, the DFM Goes to Cannes, is a programme in partnership with the Marché du Film and is part of the DFM's mandate to facilitate the distribution of Arab films. With a two-pronged purpose, the event gives Arab talent an essential platform to connect and thrive on a world stage, whilst presenting international audiences with an unmissable offering of new and thought-provoking stories from one of the fastest growing film industries.
Participating filmmakers will deliver a brief introduction of their project before each clip is screened and the five strong line-up set to present at Cannes includes Joint Possession, Marjoun and the Flying Headscarf, Poisonous Roses, Until the End of Time, and Wajib.
In addition a further six films presented at DIFF's 13th edition and supported by the DFM's Enjaaz production funding for Gulf short films are also set to impress at Cannes. Taking part in the Cannes Short Film Corner, the exclusive line-up comprises of:
Fadhilat An Takona La Ahad (The Bliss Of Being No One) directed by Bader Alhomoud (winner of Best Muhr Gulf Short)
Laila Fe Taxi (A Night In A Taxi) directed Aisha Alzaabi
Mahal Bu Teir directed by Sager L'Khrebani Al Nuaimi
Mamsous directed by Shatha Masoud (winner of Best Muhr Emirati Short)
Robian (Shrimp) directed by Yaser Alneyadi (winner of Muhr Emirati Director)
Place in your Shell by Elena Kovalenko, winner of the Samsung SHRT Flm Cntst at DIFF last year will also join the exciting lineup. Now in its fourth year, the Samsung SHRT Flm Cntst champions budding creative minds across the Emirates, under the guidance of esteemed Emirati director, Majid Al Ansari.
Praising the partnership and promising line up presenting at Cannes, Shivani Pandya, DIFF's Managing Director, said:
"The collaboration between the DFM and the Marché du Film is really an incredible tool for Arab filmmakers to pitch future projects and forge international connections, tapping into the host of sales agents, festival programmers and distributors in attendance. It's undoubtedly a very exciting time for Arab cinema and we are proud to be headed to Cannes with some of the most up-and-coming filmmakers from the Arab world."