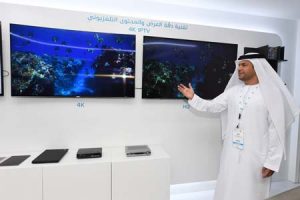 UAE telecommunications operator du is showcasing 4K TV at the 2017 edition of GITEX in Dubai.
DuTV currently offers high definition (HD) channels and claims it's now ready to offer 4K content to provide more immersive viewing opportunities, with customers being able to view content at home or on-demand across multiple screens.
"4K is the technology that is really gaining attention, and digitalisation is paving the way for the future of TV. At du, we are an adaptive and agile ICT and digital provider and we are committed to adding value through innovation to all of our different customer offerings. With 4K technology our customers can enjoy a ultra-high definition (UHD) video quality for an even more immersive viewing experience and a smarter tomorrow," said Marwan BinShakar, Vice President Access & Transport Planning, du.