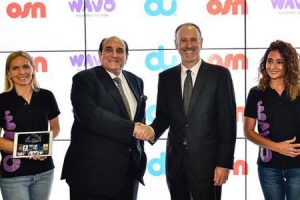 Dubai-based telecom operator du has signed a deal to provide an exclusive subscription to OSN's online and mobile app entertainment platform — Wavo — for free until the end of the year.
"Building on OSN's mantra of 'anywhere, anytime' entertainment, we're giving more customers across the region the chance to enjoy all that Wavo has to offer, with something for everyone across an incredible spectrum of genres. This is a fantastic way to further our longstanding partnership with du, by strengthening our bond with this additional exclusive agreement," said Martin Stewart, CEO, OSN.
Osman Sultan, CEO, Emirates Integrated Telecommunications, added: "Our latest partnership with OSN enables us to further bolster our m ultiple screens for their entertainment needs."
The content deal provides du customers with 14 channels of general entertainment, five for movies and six for sports, available in bundles or separate packs. Premium content includes HBO hit series Westworld and Big Little Lies, as well as Disney titles.
The Wavo app, which was launched by OSN in August 2017, is available for mobile devices and tablets, PCs and Samsung and LG smart TVs.