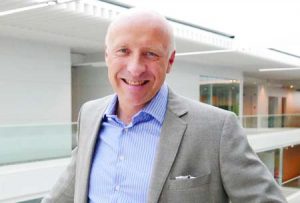 EVS has announced the appointment of Ervan Pouliquen as the company's new Chief Customer Officer. Ervan joins from Microsoft, where he spent 14 years in a range of leadership positions in USA and in EMEA focusing on maximising the positive impact that digital transformation can have on large enterprises. He officially started his new role at EVS on September 1st.
Ervan was most recently Microsoft's Western Europe Digital Solution Sales General Manager, managing all new business sales for Enterprises in the region, and overseeing a $3bn budget and 650-strong workforce. During his career, he was Chief Operations Officer and Chief Marketing Officer at Microsoft BeLux between 2011 and 2015 where he was responsible for the subsidiary's strategy, performance, marketing, products and operations. Before his time at Microsoft, Ervan held several managerial positions at major companies including McKinsey & Co., Bouygues Telecom, PepsiCo and IBM. Ervan also completed an MBA at Harvard Business School.
"The industry is currently growing with opportunities emerging in new production environments and these changes are made possible by enhanced technology deployments," commented Muriel De Lathouwer, EVS' CEO and Managing Director.
"Ervan's extensive experience working with digital media and cloud-based technology platforms will complement our existing skillset and help continue EVS' growth within these new exciting areas
Commenting on his appointment, Ervan added: "Live video is the centre of the digital revolution both on the content production and the customer engagement. With its top tier ecosystem of customers and partners, EVS is leading the way to the future of live, from ingest to delivery. I am humbled to join this company to help its employees to innovate and seize the opportunities in this growing market to further satisfy our customers and ultimately, the viewers."