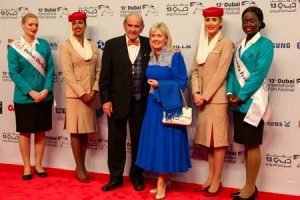 The Dubai International Film Festival (DIFF) has announced that founding sponsors Dubai Duty Free, Emirates Airline and Madinat Jumeirah, the Arabian Resort of Dubai, are continuing their support of the Festival for its 14th edition. Running from December, 6 – 13, 2017, the backing of the brands, DIFF spokesperson stated, has provided crucial support in establishing the festival as a highly anticipated and respected event on the world stage.
Held under the patronage of His Highness Sheikh Mohammed bin Rashid Al Maktoum, Vice President and Prime Minister of the UAE and Ruler of Dubai, and the support of its sponsors, DIFF promises to attract some of the best actors, directors and filmmakers from around the world for a slate of cinema over eight days this December.
Praising the ongoing support of the founding sponsors, Abdulhamid Juma, Chairman of DIFF said: "In the space of 14 years we've seen an incredible transformation of the Festival. It has grown into a leading event on the world stage, and its achievements could not have been realised without the longstanding support of our generous sponsors and industry leaders at Dubai Duty Free, Emirates Airline and Madinat Jumeirah. "
Commenting on the partnership with DIFF, Colm McLoughlin, Executive Vice Chairman and CEO of Dubai Duty Free, said: "The Dubai International Film Festival has succeeded in establishing itself as a unique event in a highly competitive field. Since its inception, the Festival has screened local, regional and international films, including many world premieres, which underline its success on the world stage. "
Sheikh Majid Al Mualla, Emirates' Divisional Senior Vice President – Commercial Operations, Centre stated: "As a founding sponsor, Emirates is proud to have been a part of this journey. Both Emirates and the Festival continue to connect the world through a passion for culture, films and travel."
Marc Dardenne, Group Chief Operating Officer and interim CEO of Jumeirah Group commented:  "We are proud to sponsor the Dubai International Film Festival for the 14th year and welcome back to Jumeirah film enthusiasts from across the globe.  The festival is a firm fixture in the Dubai calendar and a fantastic opportunity for Madinat Jumeirah to host this celebration of cinema, which year after year brings the very best in film talent and exciting movie making to the region."
Registration is now open for media, industry professionals and the public for the 14th edition, which will take place from December 6 – 13, 2017.