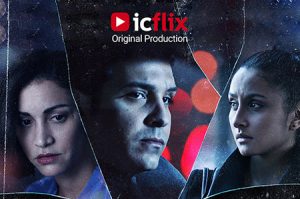 Icflix's premiered its first original Moroccan production, Burnout, directed by Nour Eddine Lakhmari and co-produced by NEL Films, across theatres in Morocco on October 11, 2017.
Burnout will be Nour Eddine Lakhmari's fourth feature film and the third in the series that includes Zero and Casanegra, that focuses on social issues, depicting the struggle of the characters and their quest for love and humanity.
The movie follows a politician, who tries to fill his lack of tenderness by the paid services of a young woman, 25-year old Aida, a student of medicine who leads a double life. Other characters include Jad, a 40-year-old entrepreneur with his 28-year-old wife, Ghita and Ayoub, a 13-year-old shoe-shiner, who dreams of buying a prosthesis for his disabled mother.
"Burnout is a film about the sacrifice and courage of ordinary people confronted with extraordinary situations, where social and economic problems intensify their distress," said Nour Eddine Lakhmari.
Burnout will be Icflix's first original Jazwood (Arabic) production from Morocco and will join a lineup of titles such as WOH!, Dunia, Borders of Heaven, HIV and Al Makida.
Written and directed by director, Nour Eddine Lakhmari, Burnout stars Anas El Baz, Ilyas El Jihani, Morjana Alaoui, Fatima Ezzahra El Jaouhari and Sarah Perles.