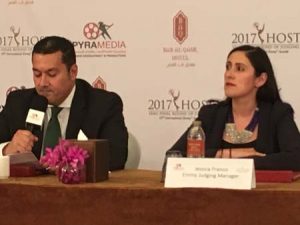 The semi-final round of judging for the 2017 International Emmy Awards was hosted on 9 September, in Abu Dhabi, by Pyramedia Group. A host of Arab celebrities from the world of TV, cinema and theatre converged on Bab El Qasr Hotel, to select the semi-finalists in the category of Best Performance by an Actor .
The 2017 nominees were selected by  veteran Emirati actors Habib Gholoom and Abdallah Bin Haidar, Emirati actress Mayssa  Maghrebi and popular Egyptian actresses, Arwa Gowda and Elham Chahine, among a host of regional celebrities.
"Semi-final rounds of judging events are crucial to the International Emmy Awards competition, so we are thankful for Nashwa Al Ruwaini and Pyramedia for hosting this again this year in Abu Dhabi", said Jessica Franco, Emmy Judging Manager.
Speaking exclusively to BroadcastPro Middle East, Jessica Franco underscored the significance of the MENA region for the Emmy brand. She said: "The goal of the International Emmy Awards is to maintain a presence worldwide. Abu Dhabi is a strong production hub and we believe our presence here will encourage regional players to  submit their work and compete on an international level."
This was the eighth year that Pyramedia Group hosted the International EmmysAwards semi-final judging panels under the leadership of Nashwa Al Ruwaini, media personality and entrepreneur who has reportedly dedicated years of her career to positioning Abu Dhabi as a media hub in the region and on an international scale.
The International Emmy Awards semi-final round of judging is an event that is endorsed by the International Academy of Television Arts & Sciences, a global organisation with more than 750 members from 60 countries and 500 companies that work in the fields of television, digital media, entertainment and film.