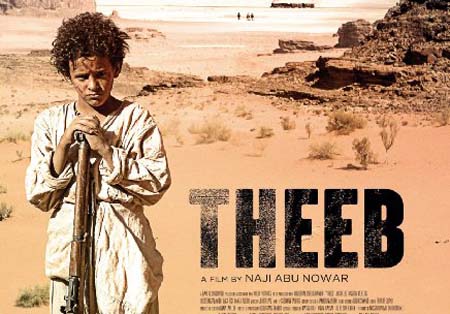 The award-winning film Theeb is Jordan's official submission for the Best Foreign Language Film category of the 88th Academy Awards.
The selection was made by a committee of Jordanian artists and craftspeople involved in the local art scene. The Royal Film Commission of Jordan organised the process as the country's official submitting body for the Oscar.
Chaired by Adnan Awamleh, Founder of Arab Telemedia, the committee also included Mohammad Azzizieh  (Film Director), Nadera Omran (Actress); Nabil Sawalha (Actor/Comedian), Munir Nassar (former Tourism Minister and Executive Board member on the Jordan Inbound Tour Operators Association), Najeh Hasan (Journalist and Film Critic), Lara Atalla (Actress and Casting Director) and Samar Dudin (Regional Director and Head of Programs for Ruwwad Al Tanmeya).
Directed by Naji Abu Nowar, Theeb is a Bedouin story of brotherhood and betrayal set in Wadi Rum in 1916. The film has been released commercially in Amman and in 20 other countries around the world. It has been an official entry to more than 50 film festivals internationally.
Commenting on the Oscar nomination of the film, Awamleh said: "Theeb has remarkable elements, be it the storyline or the cinematography or the direction. Its high standard brings Jordanian cinema to the World. And we wish the film all the success it deserves."
It is worth mentioning that in previous years Jordan had also submitted Captain Abu Raed by Amin Matalqa and Cherkess by Mohyeddin Qandour for the same category. Another Jordanian short film – Baheya and Mahmoud by Zaid Abu Hamdan – had also made its way by qualifying for the Oscar nomination back in 2012.