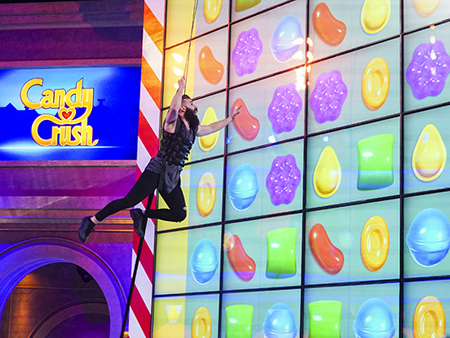 Dubai-based Eagle Films has acquired the rights to the game show Candy Crush from Lionsgate to produce an Arabic-language version.
Candy Crush launched on CBS in the USA early this month, with a series premiere average of 4.05 million viewers.
The new game-show format will be adapted for the Middle East and North Africa region and produced by Beelink Productions. The 13×60-minute Arabic-language treatment of Candy Crush is slated to go into production later this year.
Peter Iacono, Lionsgate's President of International Television and Digital Distribution, commented: "With over one trillion game rounds played since launch, Candy Crush is one of the world's most iconic mobile games. Fans are avid players and are extremely excited to have a live-action TV game show to watch as they play at home. We are proud to announce Eagle Films and Beelink as our first international partners and expect to announce many international adaptations to be produced in the coming months."
Jamal Sannan, CEO of Eagle Films, commented: "Following 15 years of successful collaboration with Lionsgate, we are looking forward to working together again to bring a brand-new TV gaming experience to our viewers, which we are confident will set a new standard in game-show production values."
Safa Aburizik, Managing Director of Beelink Productions, added: "We are very pleased to be the first international licensees of the Candy Crush format after CBS. Content is always king; we believe in premium content and we strive to deliver high production standards that can succeed in our region and travel worldwide."