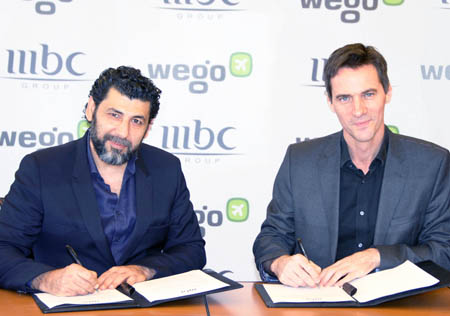 MBC Group has announced a strategic partnership with online travel company Wego by investing in the group.
As part of this partnership, Wego's popular and highly rated mobile apps and website will be heavily promoted across MBC Group's various platforms throughout the year.
In 2005, Wego was founded in Singapore and is now dual-headquartered in Dubai and Singapore after experiencing rapid growth across MENA. Wego entered the region relatively early launching fully localised mobile apps and website just in time to meet the demand from a new generation of MENA based travelers wanting to shop and book flights and hotels using smartphones.
Commenting on the partnership, Ross Veitch, CEO & Co-Founder of Wego said: "We are thrilled to welcome MBC Group as a strategic partner and excited by the opportunities to grow and develop the Wego brand while leveraging MBC's huge audiences as well as their considerable brand building expertise."
He further added: "As we incorporate more video-based editorial content and product merchandising to Wego's online travel marketplace there is obvious crossover potential between MBC's programming and Wego's online services. We look forward to exploring those opportunities together".
On his side, Fadel Zahreddine, Group Director of Brand Management- Marketing, Branding, Digital Businesses- at MBC Group said: "We're excited to be welcoming Wego to our family, and extend our portfolio of leading mobile and digital services.
"I believe that applying MBC's brand amplification platforms to Wego's fabulous product offering will benefit both brands and anybody who books their travel online".
Dubai based investment bank Arqaam Capital facilitated this transaction. Other investors in Wego include Tiger Global Management, Crescent Point Group and SquarePeg Capital.