Miranda Technologies has announced the launch of its "iTX Gold Dealer Programme," a new initiative designed to enable qualified EMEA dealers to offer broadcasters access to Miranda's market-leading iTX integrated playout solution.
Miranda dealers from throughout EMEA assembled in Derby, East Midlands, UK on 25-26 July to learn about and discuss details of the programme. The initiative marks the first step in making iTX available through channel partners who sign up for the programme; a move that Miranda believes will benefit regional broadcast and playout facilities by dramatically accelerating the entry path to iTX.
Micky Edwards, Vice President of Sales EMEA at Miranda said, "There has been a perception that iTX is the bespoke preserve of major multi-channel playout facilities and regional and national broadcasters worldwide. However, our new iTX Gold Dealer Programme is designed to provide easy access to iTX for facilities of any size through regional dealers who are ready to equip themselves with the knowledge, skill set and tools provided by Miranda. Those tools will enable authorized dealers to work with broadcast and playout facility owners to integrate an iTX solution that suits their operation.
"This means that such facilities can benefit from the core power and functionality of iTX and get any number of channels to air much faster with sales, installation and aftercare support from the authorised iTX Gold Dealer in their region."
Miranda pioneered truly integrated playout with iTX, an eminently scalable, enterprise-class architecture built on standard IT server hardware and highly advanced software technology. The system combines multiple playout functions, including automation, graphics and signal processing with unprecedented asset management and workflow efficiency tools in a single software-based platform.
The iTX Gold Dealer programme is being launched only in EMEA, at this time, but there are plans to launch in other regions in the future. iTX is currently used to manage the playout of thousands of channels every day, by broadcasters and service providers around the world including Videohouse in Belgium and Chello DMC in Amsterdam.
 Edwards added, "The continuing migration to HD around the world and ongoing channel proliferation in many major markets — coupled with the desire to reduce costs as they grow by integrating playout functions onto a single platform — has driven the success of our flagship iTX solution. There's no reason that enterprises large or small cannot, with local dealer support, exploit iTX's versatility and scalability at a level specific to their operation. This new programme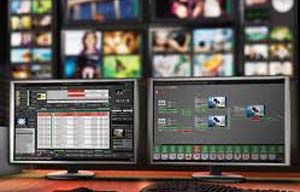 will enable them to do just that, quickly and efficiently."