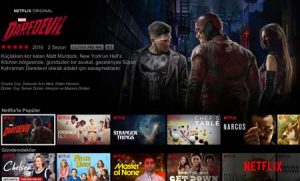 As part of its efforts to expand into global markets, Netflix has invested in its first original series from Turkey. Weaving a hero-driven action story with Ottoman and Turkish legend and history, the 10-episode series will be written and produced in Turkey and is expected to launch to Netflix subscribers around the world in 2018.
The drama focuses on a young man who discovers that he has special powers. When dark forces that threaten to destroy Istanbul emerge, he must team up with a group of misfit friends to harness these powers to defend the city and all of mankind. The show will explore the rich cultural history of Istanbul and promises to take the audience on a journey into the heart of this city.
The series is produced for Netflix by Istanbul-based O3 Medya, with Onur Guvenatam as Executive Producer. The series will expand the broad offering of Turkish content currently available on Netflix, including licensed dramas such as Magnificent Century, Ezel and Lovebird that are already very popular with Netflix members around the world.
"We're thrilled to confirm that we will be producing our first Turkish original series and are very happy to be working with O3 Medya on this project, which is young, fresh, and exciting. We believe that Netflix will be the perfect global platform for this great Turkish production and we can't wait to share more details later this year," said Erik Barmack, Vice President of International Original Series at Netflix.
Speaking about the deal, Onur Guvenatam, Co-Owner and Producer at O3 Medya added: "We are extremely proud to be producing the first original series in Turkey. We are confident that this new genre will be a milestone for our market and it will not only resonate with the Turkish audience but will also travel globally."