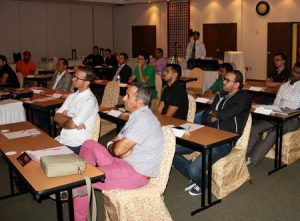 Nicolas Kyvernitis Electronics Enterprises (NMK) has announced the success of its recent roadshows in Doha and Muscat.
NMK Roadshow that took place in Doha, Qatar on November 10, 2014 and in Muscat, Oman on  November 18, 2014 attracted a broad spectrum of attendees from systems integrators to end users. More than 84 people were present at the morning and afternoon session. NMK product specialists teamed up with the manufacturer's representatives to deliver the excellent presentations and product demonstrations. Due to the variety of products on show, there was a chance for each attendee to experience tools from different parts of the industry and understand how complete turnkey solutions work. Several brands distributed by the company, namely HK Audio, Shure, Roland, Neutrik and Clear-Com were presented at the event.
"I am delighted to say that the seminar went extremely well. Getting firsthand experience on equipment is essential and having a group like minded people in the room who are able to share their experience brings a lot of value and it is a wonderful step to advancing the expertise in the region," commented Constantinos Drimakis, Operations Manager at NMK.
"As NMK represents some of the leading brands in the market with a strong portfolio, the new products and technologies attract the kind of audience we wish to attract. We are expecting similar crowd in Oman – the audience with lots of questions," he added.
One of the seminar attendees Richard Whiston, Head of Sound, Al  Rayyan TV underlined the benefits of NMK Roadshow: "Being that it is hard for my team to be allowed to leave the country for such events – the fact that it came to Doha was the highlight for me."