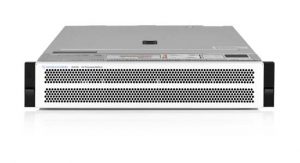 Rohde & Schwarz has reportedly enhanced its R&S AVHE100 encoding and multiplexing solution by adding adaptive bit rate (ABR) encoding as well as packetising for all established formats for OTT live streaming.
The R&S AVHE100 also supports, as per the release, high dynamic range (HDR) video transmissions.
The R&S AVHE100 encoding and multiplexing solution reportedly offers the best video quality available on the market for HEVC-encoded content from qHD to UHD, as demonstrated by Rohde & Schwarz at shootouts during the past year.
Quality and stability are also of vital importance for OTT providers who stream premium content simultaneously with live broadcasts. With the latest enhancement, the R&S AVHE100 can, according to an official spokesman, efficiently generate streaming formats in parallel with broadcast multiplexes on a single platform. The R&S AVHE100 provides ABR encoding, i.e. it simultaneously encodes, according to the release, multiple OTT live streams using several different video profiles so that the consumer always receives the best possible resolution, depending on the quality of the data connection. The platform's integrated packetizer reportedly supports all common formats such as MPEG-DASH, CMAF, HLS and MSS; as a result, the R&S AVHE100 supports a wide range of user devices.
"The launch of the R&S AVHE100 4K/HDR scalable video and audio processing platform is a significant step toward the cost-effective deployment of UHD/HDR services alongside legacy SD and HD content. The encoder is widely acknowledged as the industry leading HEVC codec with full support for PQ and HLG as well as legacy codecs and formats", said David Smith, Marketing Manager for Encoding and Multiplexing Technology at Rohde & Schwarz.