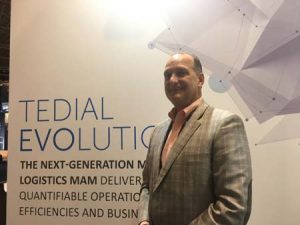 Tedial, a MAM technology solutions specialist, and EVS, a solutions provider for live production, announced a technology partnership at IBC that creates a bi-directional link between EVS' live production asset management suite, IPDirector, and Tedial's enterprise MAM system, Evolution.
UK-based Timeline Television is the first facilities provider to implement the EVS / Tedial integrated solution to deliver a five-year contract to provide a full digital archive service for ITV Sport. To support ITV Sports' fast-turnaround live production workflow, the replays, highlights and clips created on the Timeline infrastructure will be immediately stored in a dedicated ITV Sport archive.
Speaking exclusively to BroadcastPro ME about the partnership with EVS, Jay Batista, General Manager, US operations stated:"It is very exciting. For instance we are watching a live football match and  Ronaldo scores a goal. We can go back in history and find the  last five times he scored with multi-camera feeds and pull that information put it back into the EVS system. By providing tight integration between the EVS live production workflow and Tedial MAM system, facilities can make considerable production cost reductions."
At IBC 2017 Tedial has showcased its MAM workflow systems for the preparation, management and packaging of distribution, including versioning, OTT, VOD and on-line distribution. Tedial Evolution enterprise MAM tools include Evolution Version Factory and Tedial initiatives in software innovation.
Focusing on efficiency, Tedial will demonstrate an end-to-end Interoperable Master Format (IMF) workflow that applies SMPTE standards to provide a reliable on-premises and SaaS cloud solution for real world distribution applications.
Speaking about the solution, Batista stated: "It saves about 25% in storage over a three-year period. There is a lot of ways that money adds up and it is an efficient process.