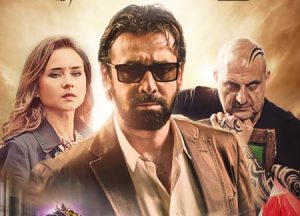 The Blue Elephant, Arabic cinema's latest blockbuster, is set to be released in the UAE on 14 August. Details of the film and the production, which has taken the Egyptian box office by storm, were announced at a press conference and screening last night, attended by the stars of the film, Karim Abdel Aziz, Nelly Karim, the Director, leading Arabic filmmaker Marwan Hamed, Writer Ahmad Mourad as well as Producer/Executive Producer Fadi Fahim.
The Blue Elephant, created by leading production company Lighthouse Film and Al Batros Film, is based on a best-selling Arabic novel and was produced and filmed in Egypt. The thriller is the first Arabic film of its genre to be produced in the Middle East, and it was launched in Egypt over Eid. Dubai has been selected as the location of choice for the screening, press conference and first release in the GCC, due to its connectivity and vibrant media industry, affirming its position as a key part of the production value chain. It's also worthy to note that Gulf Film is the movie's distributor in the Middle East (outside Egypt).
Jamal Al Sharif, Chairman of Dubai Film and TV Commission and Managing Director of Dubai Studio City, said: "Dubai's media industry is thriving, and the Emirate is playing an active role in attracting productions from around the world, "Mission Impossible" is a great example of a recent international film we were able to support with our world-class infrastructure and technology, and Dubai is becoming a real film and TV ecosystem. Not only is cutting-edge content being produced here, but we are becoming the location of choice for huge regional production companies to promote their films."
He added: The UAE has 277 number of cinema screens and has been ranked number one in the GCC in terms of cinema admissions making it the ideal location to promote a movie in the Middle East. We are delighted that Lighthouse Film has chosen Dubai to release The Blue Elephant and hold today's screening and press conference, and I am confident that the film will have as much, if not more success here than it has already had at the Egyptian box office."
The UAE has been ranked number one in terms of cinema admissions in the GCC (according to Italia Film marketing firm), and the region's cinema landscape is thriving, with 13m cinema tickets sold in the UAE in 2013.
Speaking during the press conference, Fadi Fahim said: "Dubai has always been the leading city in the GCC to endorse Arabic and Western Cinema. From my past experience shooting "El Sefara fel Omara" here, Dubai is the place to be if you need to market your movie in the Middle East."
He added: "The Blue Elephant is such a precious movie for us, and it took us years to prepare for it, that's why we chose Dubai to launch it in the GCC. It is a masterpiece and one of its kind in the Arab world, due to its advanced directing, acting and sophisticated storytelling, as well as its high technology production. The visual effects in the movie are a state of the art that has been done by "BUF", the world leading visual effects company from Paris who worked on Avatar, Life of PI, Thor and a lot of Hollywood Blockbusters."
Fadi concluded: "We are encouraged to shoot more movies in Dubai, thanks to the consistent support and facilities offered by the Dubai Film and TV Commission. In addition, Dubai has the most advanced infrastructure and technologies in place to support large scale productions, as well as one of the largest and advanced studios and soundstages available in the Arab world."