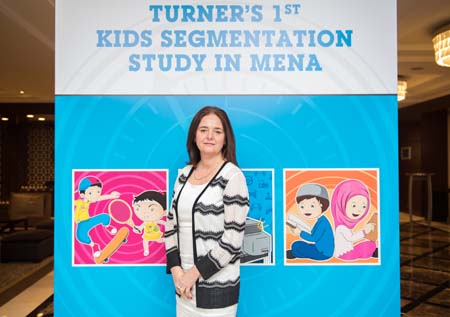 Turner, a division of Time Warner, has revealed key insights about the entertainment behaviours, spend, attitudes and purchasing power of kids in the Middle East in a new study titled Kids Compass. Turner has compiled a specialised report following a comprehensive segmentation study of kids in the region. Findings have been formulated following analysis of insights gained from more than 3,000 children aged between four to fourteen years, and parents across key markets including UAE, Kingdom of Saudi Arabia and Turkey.
The study was unveiled at an event held at Grosvenor House in Dubai with distinguished speakers and panellists.
Commenting on the study, Tarek Mounir, General Manager Middle East, North Africa, Turkey, Greece and Cyprus at Turner said: "Kids Compass is a momentous milestone that enables us to further understand the children of the 21st century, especially from the region. The study is the first of its kind that equips organisations with significant insights into children's behavior and how that has evolved in the current world. As the leading provider of children's entertainment channels in the region, we have a great sense of responsibility towards truly understanding the region allowing us to offer enriching experiences to children and parents alike. "
The panellists included:
t

Patricia Hidalgo, Senior Vice President, Chief Content & Creative Officer Kids EMEA and International Kids Strategy for Turner

t

Naeema Jiwani, Child Developmental Psychologist, Human Relations Institute

t

Geoff Sheffield, Director of Procurement and Licensing, RM Retail (Toy Store)

t

Ramzi Haddad, Managing Director for UAE, Qatar & Kuwait, Carat
Commenting about Kids Compass, Patricia Hidalgo, Senior Vice President & Chief Content & Creative Officer Kids EMEA and International Kids Strategy for Turner said: "Kids Compass offers a better understanding of children in the region, truly giving us insights into their personalities, behavior, and most importantly what they define as entertainment. Ultimately, our aim is to contribute to their happiness by delivering tailored content that promises to entertain."
The study was undertaken in collaboration with Clusters, a quantitative market research and segmentation agency, as well as IMG Worlds of Adventure and Toy Triangle. The study involved tailor-made questionnaires, in-depth interviews and real-life observations of children and parents as they went about their daily routine. Findings indicate a shift in perception of how children across the region see the world, what they truly value, and how it defines their future.
Digital & Social Media Penetration
The study indicates that TV remains the primary source of entertainment, however the rise in mobile broadband penetration means that kids are increasingly becoming digital-savvy. Over 62% of children use a smartphone and 56% of children use tablets. YouTube usage among children is relatively higher across the region; KSA emerged on top with 64% of children using YouTube for video entertainment, followed by Turkey with 61% and UAE with 45%. Interestingly, 7 out of 10 children use social media. Over 50% of kids in UAE, KSA and Turkey use Whatsapp, a cross-platform mobile messaging application. Facebook connectivity is comparatively higher in Turkey (68%), but lagged behind in the UAE (39%) and in KSA (32%).
Segmentation of Kids Personalities & Subsequent Behaviour
Based on insights derived from the study, kids across the region have been segmented into key behavioural groups. This is an approach Turner has used to distinguish behaviours rather than taking the traditional root of segmenting consumers via age, gender and nationality. The study revealed six distinct segments across all three markets, offering a holistic view of the fast paced development and lifestyle changes children are experiencing today. Characterised by the terms, Eager Minds, Make Believers, Social Sharers, Perceptive Pioneers, Remote Control Gamers, and Good Listeners, insights were drawn to depict the degree of influence kids have on parents' decision making process, as well as the levels of social awareness among kids within the region.
The report also offers insights into perceptions that affect purchases of toys as well as investment into themed entertainment. A second phase of research is currently underway and will focus on tracking the evolution of the six segments in terms of entertainment behaviors and spend, television consumption and Key Performance Indicators as well as overall attitudes. The second phase is scheduled to be complete in Q4 2016.