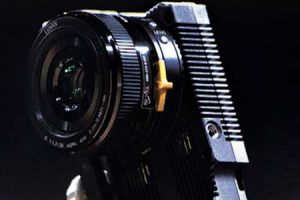 Camera Corps, a supplier of speciality television production systems, has announced an addition to its rental assets with the miniature high frame rate camera for use in live broadcasting. The new Clarity range is designed to deliver real-time live output and high frame rate SDI video replays into slow motion servers.
"Working closely with our clients, we established a need for a miniature high frame rate camera," said Commercial Manager Barry Parker. He added: "Weighing just 340 grams, the Clarity greatly extends the opportunities available to producers seeking to capture slow motion imagery from outdoor or indoor locations. Broadcasters now have the freedom to capture slow motion from an ultra-compact live camera that can be placed right in the middle of the action. A UHD version operating at 2x real time is also available."
Image capture is via a 7MP micro sensor, designed to operate at high frame rates. The camera can be genlocked and demonstrates a wide temperature tolerance, from -25 to +50 C, allowing outdoor use from winter sports to the hottest mid-summer events, as per the official release.
Completing the system is a full-functioned remote control panel with paint, focus, and iris control. Additional features include a positive-lock lens mount plus a global shutter with speeds of 1/60, 1/125, 1/500 and 1/1000 second. Sensitivity is 2000 lux at F11 aperture. Video can be output in 1080p, 1080i and 720 formats at 50 or 59.94 Hz.