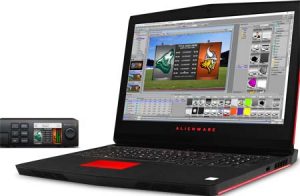 Ross Video has announced that XPression, the company's real-time graphics engine, will be demonstrated on a new portable edition at IBC this year.
The XPression Go! Mini Series of portable real-time render engines maximises the rendering power of the new Alienware 17' Windows 10 gaming laptop, as well as Black Magic Design's Ultra Studio HD Mini Thunderbolt 3 video I/O device, to create the most efficient portable real-time motion graphics engine today.
"Live event producers are trying to maximize their investments as well as reduce the rack space required to create network quality content," stated Patrick Twomey, Director of XPression Product Marketing at Ross Video.
"The XPression Go! Mini edition is designed for both smart freelance operators who want to offer network quality graphics in a portable solution, and program producers who need a high-quality real-time motion graphics engine with a self-contained portable solution."