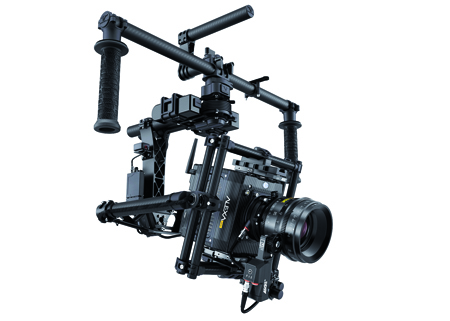 Our resident DoP Harvey Glen tests the Alexa Mini to find out if good things do indeed come in small packages
ARRI has released a little brother for the Alexa, the Alexa Mini. However, it is far from being your typical little brother. I would actually call it the 'little big brother' – although it is smaller in many respects, it is stronger.
I first got to use the Mini on a Max Factor TVC I shot for Bazooka Films. Originally, I was going to use the RED Epic, as I needed 4K capability, but then I learnt that Action Filmz had just received the Mini.
The Mini can shoot Ultra HD (UHD), which is 3840×2160 recording in ProRes 422 HQ, 4444 or even 4444 XQ, which is very impressive. In 2K, it can shoot up to 200fps. The Mini has the option to record ARRI RAW and can be set to 4:3 for anamorphic work. This is an incredibly versatile camera and I can safely say it's far from a mini anything.
Initially, I understand that ARRI launched the Mini to accompany the Alexa in the world of gimbals and aerial work, where productions would have little choice other than to use the RED Epic. However I believe that the Mini is not a mere B camera; it stands on its own two feet and is the kind of little brother that would not only stick up for you in a fight, but emerge victorious.
I really got to put the Mini to the test when I was asked to shoot a 10-day international campaign for Emirates. First of all, it is small at 185mm in length and 125mm in width. Its body only weighs 2.3kg. These factors are ideal for filming inside an aircraft.
We needed to keep the form factor as small as possible in order to get in between seats in Economy and hunkered into tiny spaces in both First Class and Business. The Mini allowed me to do this.
One of the reasons the original ARRI Alexa is so popular is its form factor. The 'real camera' ergonomics are loved by almost everyone who touches it, especially from a 35mm film background. The Mini doesn't have the same form factor, and is not meant to. It's an elite Alexa packed down into a box, or should I say, a brain.
For a single operator, it's very easy to get into the menu and adjust the setting, similar to the Amira access points.
The Mini is missing the menu on the dumb side of the camera, which is loved by all camera assistants across the globe and every DoP and operator, but you can't have everything.
The base ISO is a respectable 800. I found the camera to have low noise and natural skin tones, which is another reason cinematographers and directors love the Alexa look. It has around 14 stops of dynamic range (or so ARRI claims). I am always sceptical, though, about how this is measured. However, it does have a high latitude, which was very helpful for me when shooting aircraft interiors. It meant that for certain daylight scenes, I could lighten high contrast and pump 2x M90 through the aircraft windows, yet still pick out details in the internal fabrication of the new A380.
Gaffer Sharief Mohammed ran his team incredibly professionally and supplied some great aircraft filming experience. He rigged the M90s on cherry pickers and had mirrors outside that we occasionally used via the fire exits. For the high contrast, we used smaller mirrors internally and focused light across the talent's chest, giving the impression of light from windows and some subtle aircraft movement.
The built-in ND filters are very helpful when working for quick turnaround. Just like the Amira, the Mini has ND 0.6, 1.2 and 2.1. This translates to two stops, four stops and seven stops. From ND 1.2 to 2.1, three stops is quite a jump, so it's worth carrying an ND .3 and .6 with you so you can get to the exact F stop you want to shoot at without changing any lighting.
I used older glass on the Mini as we didn't want an overly sharp image. The Mini's ALEV III sensor is worth noticing, since it's the same as the more expensive Alexa XT. I combined the Zeiss Super Speed mark 2 Primes T1.3 with Glimmer glass filters varying from 1 to 2 in strength. While 1 is quite subtle, 2 is better for close-ups.
The director references were all from high-end fashion photography. We wanted a modern fashion look, and this approach was taken throughout the campaign. The older super speed lenses helped soften the image, and the Glimmer glass filters emphasised this by cleaning up skin tone and subtly blooming the highlights and flaring, without being over noticeable or looking dated.
The Mini, like the Epic, has the ability to change out the lens mount, PL, EF and even B4. This comes in very handy and is an excellent investment. If you have smaller jobs where they don't have the budget or requirement for PL mount glass, you can still use your camera.
My camera department did an amazing job. Focus puller Ayub Khan was fantastic at keeping the images sharp. We mostly shot around the T2 mark and often handheld and at 50fps. The 35mm was our favourite lens, but we often used an 85mm or 100mm Macro for close-ups as well. Graham Almeida, the second assistant cameraman, managed the camera efficiently alongside key grip Michael Klam, who rigged it in various configurations.
I have used this camera many times since the Emirates shoot and will be using it in future as well.
It has the Alexa look, cuts seamlessly with other Alexa models and is so versatile. Honestly, what's not to love! Alexa has officially become the 35mm replacement. If you look at the Oscar nominations, ARRI cameras have been used in all the top nominated motion pictures. That's not to say the camera is responsible for the images – far from it!
Cinematographers and the craft are the most important, but it just goes to show that most of the top guys are using the Alexa.
The RED cameras have been on a resolution war since inception. They are now releasing the Weapon 8K, but as much as I like the RED (and I genuinely do), I don't think it's all about resolution. Most clients still finish their projects in 2K or HD.
The Mini was a welcome surprise from ARRI. For me, it covers all the bases and was the perfect choice for my shoot.
I really wouldn't change much, other than add a menu on the dumb side, which would make it easier for assistants to quickly change settings.
The basic Alexa Mini costs $36,000-45,000, depending on your choice of licence options. For a high-end digital cinema camera, that's not too bad, especially if you can make it work for the next two to four years.
Overall, the Alexa Mini is a great piece of kit and perfect for all levels of filming, from TVCs, documentaries and corporates to features.
Harvey Glen is a Dubai-based cinematographer. He can be reached at www.harveyglen.com.